Evora GT430 & GT430 Sport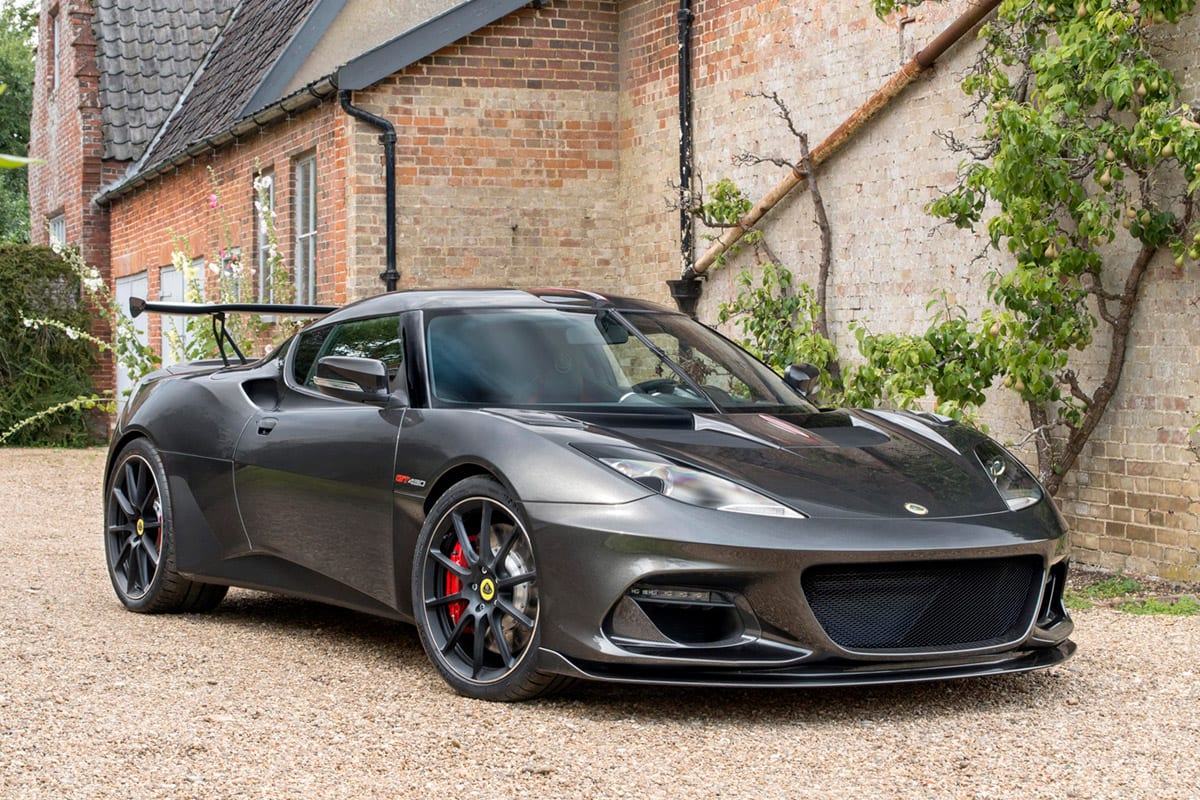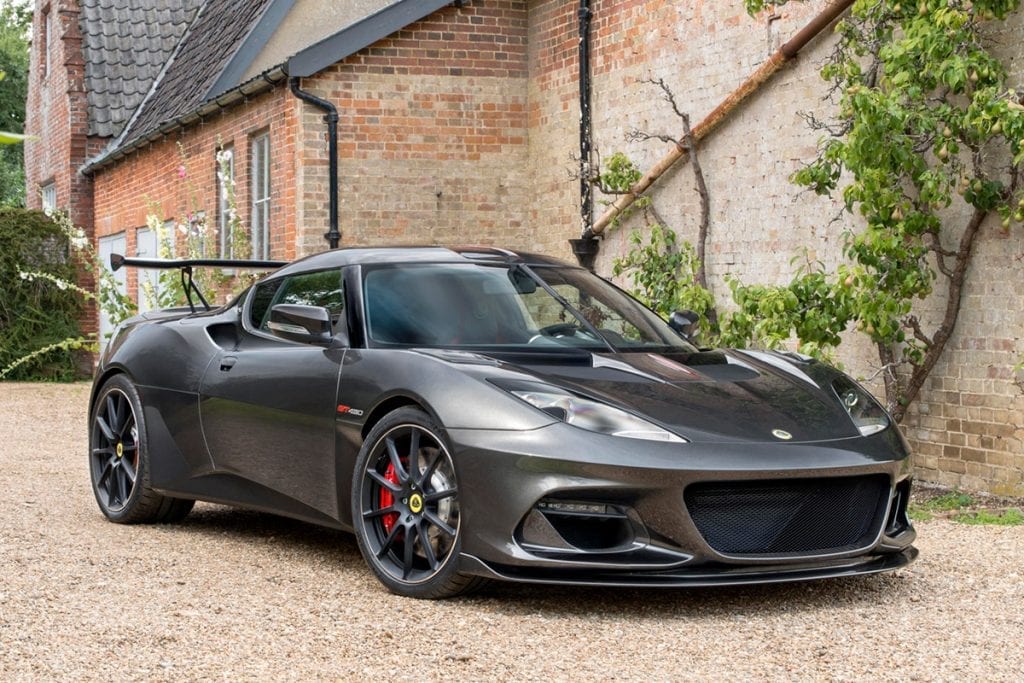 Underpinned by the company's acknowledged eminence in lightweight engineering, and at a new benchmark weight of 1,258 kg (dry), the Lotus Evora GT430 is the manufacturer's most powerful and accomplished road car to date. With such performance, and all the marque's chassis expertise, the new Evora GT430 delivers tremendous real-world speed and handling unheard of in its class. Without the aerodynamic elements, the Evora GT430 Sport weighs 10kg less at 1248kg (dry), bringing the power-to-weight ratio to 345 hp / tonne and the top speed to 196 mph (315 km/h) making it the fastest Lotus production car ever.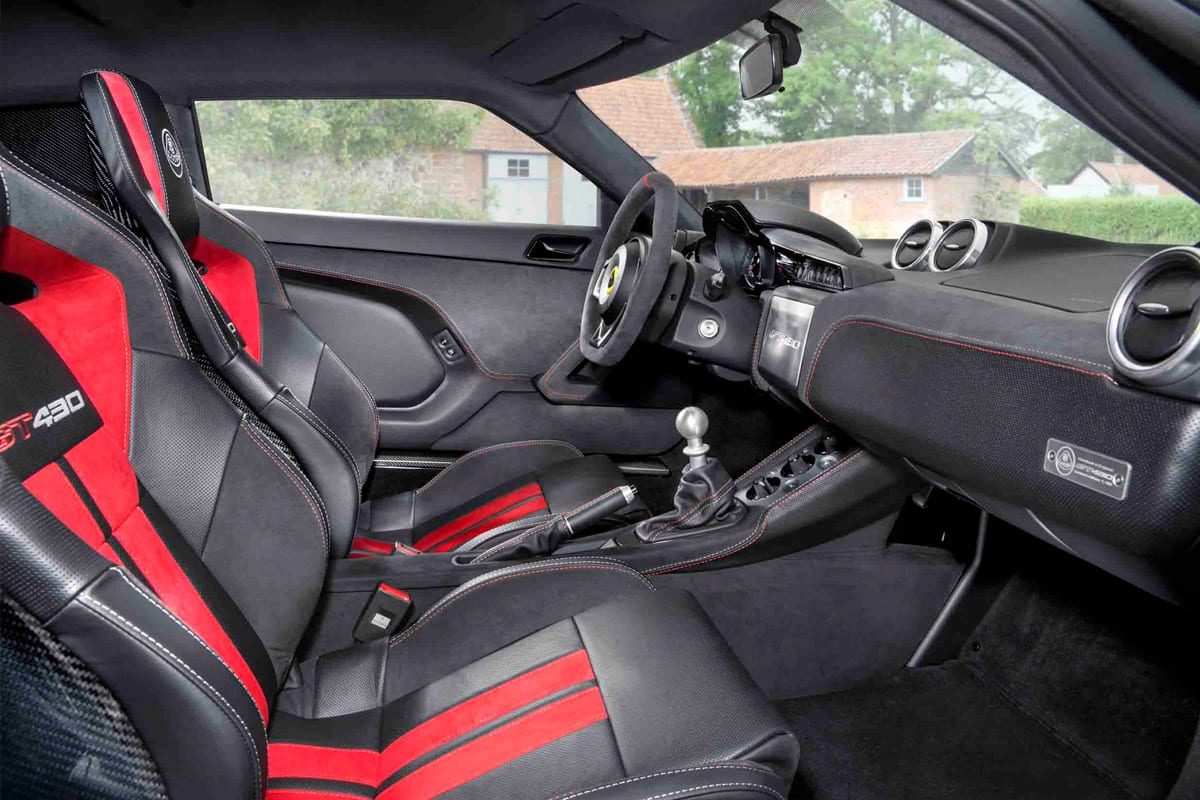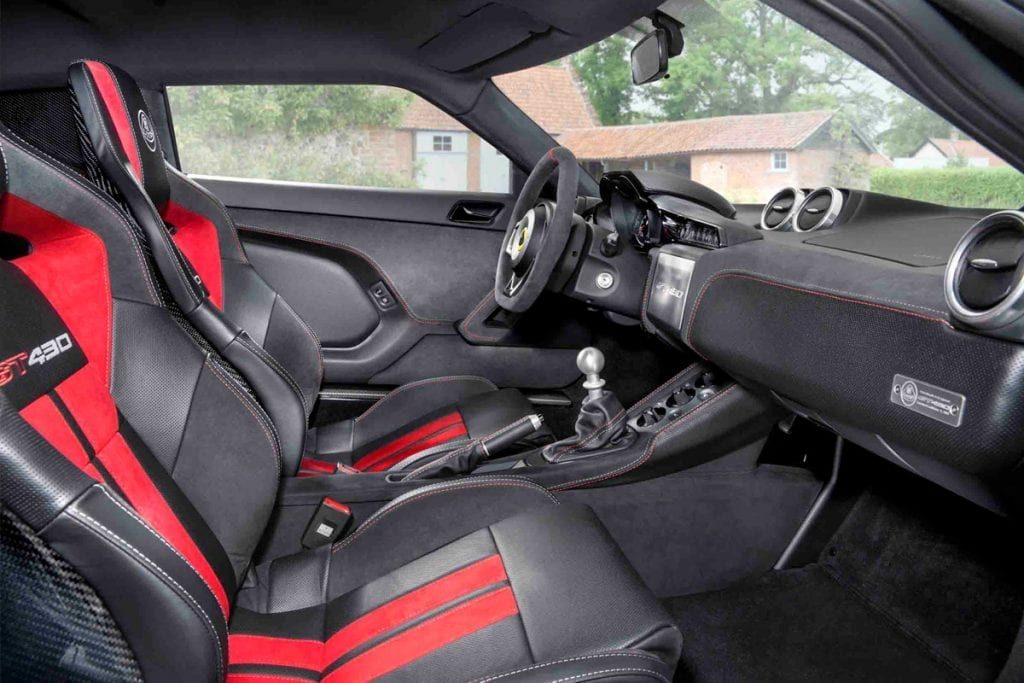 Adding to the acclaimed Evora 400 and Evora Sport 410 models, the new Evora GT430 range now includes two body options and a choice of manual or automatic transmission. Joining the Evora GT430 is the Evora GT430 Sport, a new member of the family that carries the same phenomenal firepower and sculptured body-style but without the additional downforce-creating aerodynamic elements. Both models are powered by the same 3.5-litre V6 supercharged and charge cooled engine, producing 430 hp and 440 Nm of torque (Automatic version: 450 Nm). Boasting a high specification, the Evora GT430 range includes, as standard, Ohlins TTX two-way adjustable dampers, J-grooved and ventilated brake discs – paired with AP Racing four-piston calipers all round, a Torsen-type limited slip differential (LSD) and an adjustable traction control system.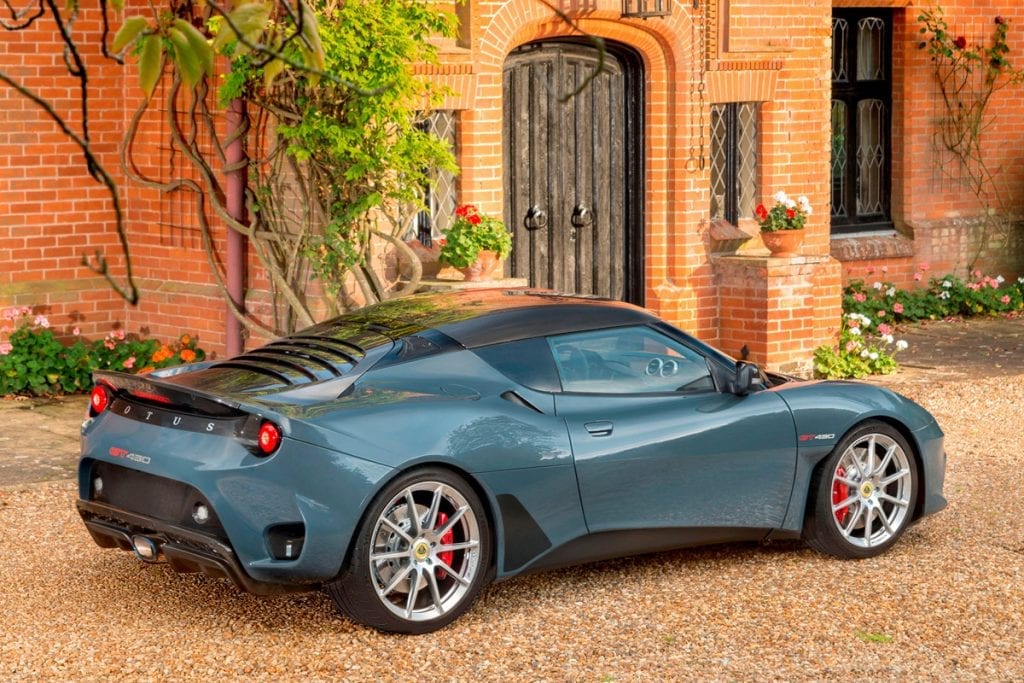 With new and specifically designed body panels, featuring exposed carbon weave sections, front and rear, the Lotus GT430 generates up to 250 kg of downforce through advanced aerodynamics. Larger front apertures, a new carbon fibre splitter, air blades and louvers positioned on top of each front wheel arch clearly illustrate the supercar credentials of the Evora GT430 when viewed head on. At the rear, aero ducts behind each wheel reduce pressure in the wheel arch and offer visibility of the wider Michelin Pilot Sport Cup 2 tyres, and a large rear diffuser provides a sharp visual finish. Both are crowned by the large, profiled carbon wing. The new Evora GT430 Sport makes full use of carbon fibre to help hit its low kerb weight. This means that standard components include full carbon front and rear bumpers, front access panel, roof panel, rear quarter panels as well as a one-piece louvered tailgate with integrated spoiler.
SPEC
| モデル名 | EVORA GT430 SPORT | EVORA GT430 |
| --- | --- | --- |
| 全長 | 4,390mm | 4,359.5mm |
| 全幅 | 1,850mm (ミラー除く) | 1,845mm (ミラー除く) |
| 全高 | 1,240mm | 1,220mm |
| ホイールベース | 2,575mm | 2,575mm |
| トレッド 前/後 | 1,564mm / 1,575mm | 1,564mm / 1,575mm |
| 最低地上高 | 140mm | 140mm |
| 車両重量 | MT : 1,289kg (Kerb weight) / AT : 1,300kg (Kerb weight)  | 1,299kg (Kerb weight) / 1,258kg (Dry weight) |
| 乗車定員 | 2名 / 4名 | 2名 |
| エンジン型式 | 2GR-FE | 2GR-FE |
| エンジンの種類 | DOHC 6気筒 VVT-I + スーパーチャージャー | DOHC 6気筒 VVT-I + スーパーチャージャー |
| 排気量 | 3,456cc | 3,456cc |
| ボア×ストローク | 94.0mm × 83.0mm | 94.0mm × 83.0mm |
| 圧縮比 | 10.8 : 1 | 10.8 : 1 |
| 許容最高回転数 (瞬間) | 6,600rpm (ノーマルモード時) / 7,000rpm (スポーツモード時) | 6,600rpm (ノーマルモード時) / 7,000rpm (スポーツモード時) |
| 最高出力 | 321kW (436ps) / 7,000rpm | 320kW (436ps) / 7,000rpm |
| 最大トルク | MT : 440Nm (44.8kgm) / 4,500rpm / AT : 450Nm (45.8kgm) / 4,500rpm | 440Nm (44.8kgm) / 4,500rpm |
| 最高速度 | MT : 315km/h / AT : 280km/h | 305km/h |
| 0-100km加速 | MT : 3.8s / AT : 3.7s | 3.8s |
| ダウンフォース | 100kg (最高速度到達時) | 250kg (最高速度到達時) |
| 燃料供給システム | ロータスコントロール電子制御 | ロータスコントロール電子制御 |
| 使用燃料 | 無鉛プレミアムガソリン | 無鉛プレミアムガソリン |
| 燃料タンク容量 | 60ℓ | 60ℓ |
| ステアリング形式 | ラック&ピニオン式油圧パワーステアリング | ラック&ピニオン式油圧パワーステアリング |
| トランスミッション | 6速MT / 6速AT | 6速MT |
| サスペンション形式 | 前 / 後 ダブルウィッシュボーン | 前 / 後 ダブルウィッシュボーン |
| | 前 / 後 オーリンズ製TTXアルミ2ウエイアジャスタブルダンパー (20段階調整) | 前 / 後 オーリンズ製TTXアルミ2ウエイアジャスタブルダンパー (20段階調整) |
| | 前 / 後 アイバッハ製超軽量ローサイドロードスプリング | 前 / 後 アイバッハ製超軽量フロント/リアサイドロードスプリング |
| ブレーキ形式 | ボッシュ製ABSシステム | ボッシュ製ABSシステム |
| | APレーシング製 4ポッドアルミ合金製キャリパー | APレーシング製 4ポッドアルミ合金製キャリパー |
| | 2ピースJフックベンチレーテッドブレーキディスク | 2ピースJフックベンチレーテッドブレーキディスク |
| ブレーキディスクサイズ | 前 / 後 : 370mm / 350mm | 前 / 後 : 370mm / 350mm |
| タイヤ | Michelin Pilot Sport Cup 2 | Michelin Pilot Sport Cup 2 |
| タイヤサイズ | 前:235/35 ZR19 後:285/30 ZR20 | 前:245/35 ZR19 後:295/30 ZR20 |
| ホイールサイズ | 前:8.0J × 19 後:9.5J × 20 | 前:8.0J × 19 後:10.5J × 20 |
| シャーシ | ロータス製オールアルミモノコック | ロータス製オールアルミモノコック |
| ボディ | オールグラスファイバーボディ (FRP素材) 一部カーボンファイバー | オールグラスファイバーボディ (FRP素材) 一部カーボンファーバー |
| ラゲッジルーム容量 | 160ℓ | 160ℓ |